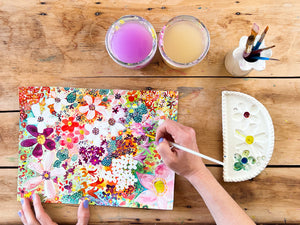 Artist + Educator
Emily Keener
Welcome to This is Happiness Studio! I'm Emily.
My work is full of exploration and reflection, of lingering moments, and little magic. 

I use varied techniques in my creative practice, allowing myself to play in each moment. My playful process is highly influenced by my children. 
A song that cycled through the studio, during time spent with my children playing creatively, was "Happy" by Pharrell Williams. As Pharrell belted out the lyrics, my boys would shout: "What is happiness?!" … and respond to their own question … "THIS is happiness!"
And This Is Happiness Studio was born.
Meet the Maker
BRING A LITTLE MAGIC INTO YOUR EVERYDAY
We have a special offer
JUST FOR YOU
The paint palettes are open for special order September 15th -29th. When you place your order your paint palette will be hand made just for you.
View The Paint Palettes
This section doesn't currently include any content. Add content to this section using the sidebar.